Voice-over acting is no longer all about having that "announcer-y" boom or classic fireside radio voice. More and more casting directors are looking for regular, "conversational" voices to represent a product in a commercial or to play the animated moose in a new Hollywood flick, but the competition is fiercer now than ever before. In a business that is "more risk than reward, more heartbreak than success," author Talon Beeson will show you in Starting Your Career in Voice-Overs how to beat the odds, improve your skills, make the right connections, and build a career in the voice-over business. Some of the topics covered in this book include:
Warm-up exercises for the voice
Reading everything — jokes, telephone numbers, video games, commercials, feature films, and more
Cold reads
Analyzing scenes and translating that analysis to voice
Creating demos
Representing and marketing yourself effectively
Equipment and recording at home
And many more!
This instructional book for professionals presents readers with varying techniques, exercises, and theories to practice — a vocational foundation guaranteed to elevate an actor's game. In an ingenious and instructive way, Beeson relates voice work to the greatest dramatist of all time, William Shakespeare. This is an added bonus for the classically-inclined individual and provides excellent training for every actor. This intellectually-informed book is designed to improve your voice skills and teach you the basics of the business — the ultimate preparation for any serious actor seeking to pursue this field. Surrounded by microphones, voice-over actors are a unique breed who require additional and different skills to create their reality, and Talon Beeson shows you how to do just that in Starting Your Career in Voice-Overs.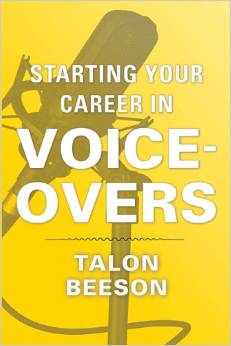 About the Author
Talon Beeson is an actor, director, teacher, and writer. On stage Talon has been seen from coast to coast in theatres in Georgia, Virginia, Kentucky, Chicago, New York, Los Angeles, and Ohio. He has been heard on many TV shows, video games, and commercials including Divorce Court (Daytime Emmy nomination), GTA V, Call of Duty: Advanced Warfare, and as the voice of Kingsford Charcoal, among others. He has also appeared in several episodes of the three-time Peabody Award and SOVAS-nominated radio drama Suspense! Recently, he directed and played a lead role in the game Soteria, which won the Bronze Award at the International Serious Play Awards and the Audience Choice award from Stanford University. In 2017, Talon was nominated for a SOVAS VAA award for his work in the audio book Wonder. Talon wrote, directed, and starred in the short film It Was Good which has been screened at several film festivals. He was also the voice director of the hit TV show You Live in What? on HGTV. He holds a BFA in Music Theatre from Shenandoah University and an MFA in Acting from DePaul University. He has taught across the nation at the SAG Conservatory, the VO Academy, DePaul University, Prairie State College, and Columbia College Chicago. His best-selling first book, Starting Your Career in Voice-Overs, is available in bookstores everywhere.